BULLOCK HOUSE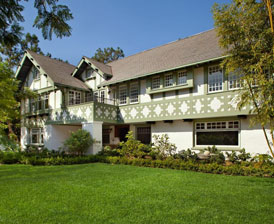 The business maverick and Bullocks department store founder John G. Bullock and his family occupied the beautiful Tudor style mansion until 1962. Awarded the Landmark Award in 2003 from the Hancock Park/Windsor.
The half-acre plus flat lot includes the main house of six bedrooms, four full baths, formal living and dining rooms, entry hall, library, breakfast room, upper and lower laundry rooms, two powder rooms and enormous gourment kitchen with Carrera marble countertops, multiple sinks and prep areas, two dishwashers and Viking 8-burner stove/oven. Also includes a service entrance and rear service staircase and four fireplaces. Multiple covered patios, balconies and water fountain/koi pond provide breezy, meditative outdoor spaces that flow from the generously sized public and private rooms. Master bedroom and en-suite spa bathroom with double sinks, built-in vanity and fully equipped walk-in closet with center island. An enormous 3rd level attic with air conditioning and heat would make a fine game room or performance space. Original restored hardwood floors throughout, along with original oak doors, windows, screens, staircases and moulding with vintage hardware. Fully gated, the property also includes a detached guest house and 4-car garage, pool cabana with bathroom, and deep & sunny diving pool. Lovely, grassy grounds with mature trees and floral gardens surround the stately home… a true survivor that remains regal, but newly modern and poised for the new century.
WHAT WAS DONE
As part of the renovation, Ms. Brown had both fireplaces rebuilt, transformed a bedroom into a dream walk-in closet, another bedroom became the upstairs laundry room. Brown completely refurbished all bathrooms and demolished the kitchen, maid room and bath to create a massive, impressive and overstated kitchen. She sees the kitchen as the centerpiece of the renovation and says it's the hub of the home where all the activity transpires. The area (see before and after pictures) was completely gutted, then rebuilt with custom cabinetry featuring a long center island. Preserved is the fabulous window light of this century old but now hip, modern Tudor estate. Brown also changed all the hardscaping on the massive estate and extensively changed the landscaping. Like all Morgan Brown Designs, it was a labor of love.